Energy Advertising tailored to your needs
Any way you slice it, Rigzone has the highest reach of any industry-specific publication
GET TO THE HEART OF THE OIL & GAS INDUSTRY
Rigzone is the industry's top publication. With a reach of 1.3 million monthly website visitors and over 680,000 newsletter impressions, Rigzone sits at the top of the industry for advertising. Reach oil & gas professionals across the globe, with 9.5K+ new members added monthly!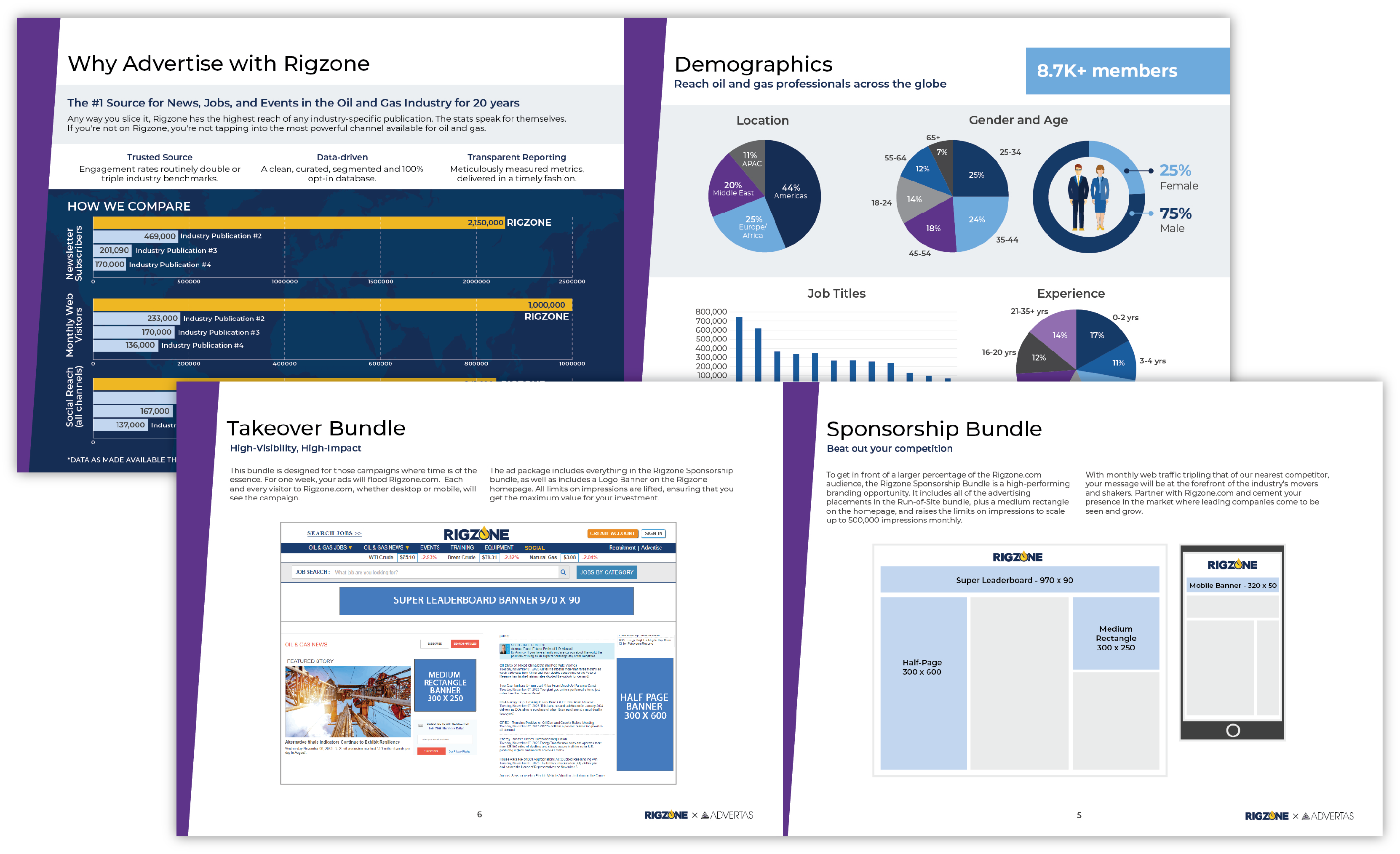 HOW WE COMPARE
NEWSLETTER SUBSCRIBERS
2,150,000 | RIGZONE
469,000 | Industry Publication #2
201,090 | Industry Publication #3
170,000 | Industry Publication #4
MONTHLY WEB VISITORS
1,000,000 | RIGZONE
233,000 | Industry Publication #2
170,000 | Industry Publication #3
136,000 | Industry Publication #4
SOCIAL REACH (ALL CHANNELS)
841,600 | RIGZONE
267,000 | Industry Publication #2
167,000 | Industry Publication #3
137,000 | Industry Publication #4
Ready to get started? Go ahead and grab 15 minutes on our calendar so we can help you identify the best advertising package to achieve your objectives.
ABOUT THE
RIGZONE X ADVERTAS STRATEGIC PARTNERSHIP
Two industry powerhouses – Rigzone, the largest of the oil and gas online news outlets, and Advertas, a marketing agency specializing in the energy sector, have partnered to deliver a cohesive solution for your campaigns, from creative content to reaching an audience of literally millions.
Rigzone attracts over 1 million monthly web visitors and has over 4.5 million members, placing the site far ahead of other online industry publications. Companies seeking to sell products and services to the energy industry can be confident their ads will get the maximum impressions available from any single channel.
If your in-house staff is running low on capacity, or if you just need that extra injection of creativity from audience ad fatigue, Advertas has been marketing technology, equipment, and services in the oil and gas industry since 2004. They bring a keen understanding of the market buying values, a strong technical competency, and a talented creative team to bring out your offering in a way that cuts through the noise.
Whether you bring your own creative, or need help developing new, Rigzone is THE source for oil and gas news, jobs, and events. If you're not on Rigzone, you should be.
CONTACT US
Are you struggling with your current marketing efforts? Our team of experienced marketers can help. Let's work together to develop a customized solution that will help your business thrive. Schedule a consultation with us today and take the first step toward achieving your marketing goals. For more information or to design your custom campaign: