What is Account-Based Marketing and Who Should Consider it?
By Hal Green and Laura Cuttill
Account-Based Marketing (ABM) is a marketing strategy that focuses marketing resources on a set of target ("strategic") accounts, thereby increasing marketing efficiency and effectiveness. Implicit in ABM is that the critical financial decision-makers and technical influencers can be identified within each target account, and marketers seek to reach and influence these individuals. The ABM view of the marketing funnel is distinctly different from the classic consumer-based marketing, which requires somewhat different marketing methods. Some would say that the ABM turns the marketing funnel upside down, as depicted in Figure 1.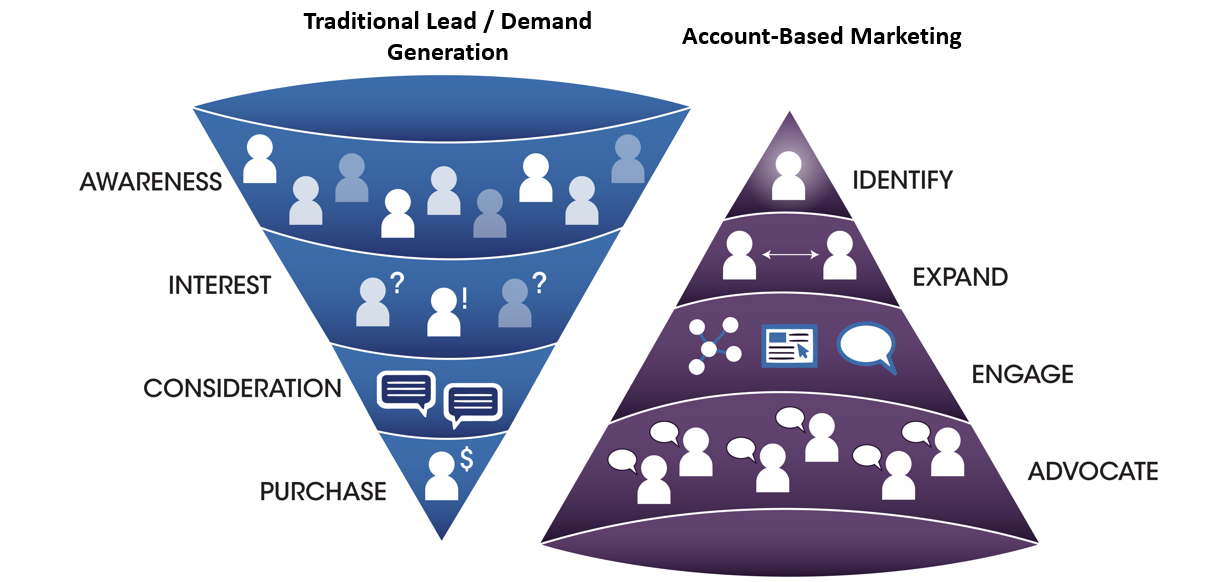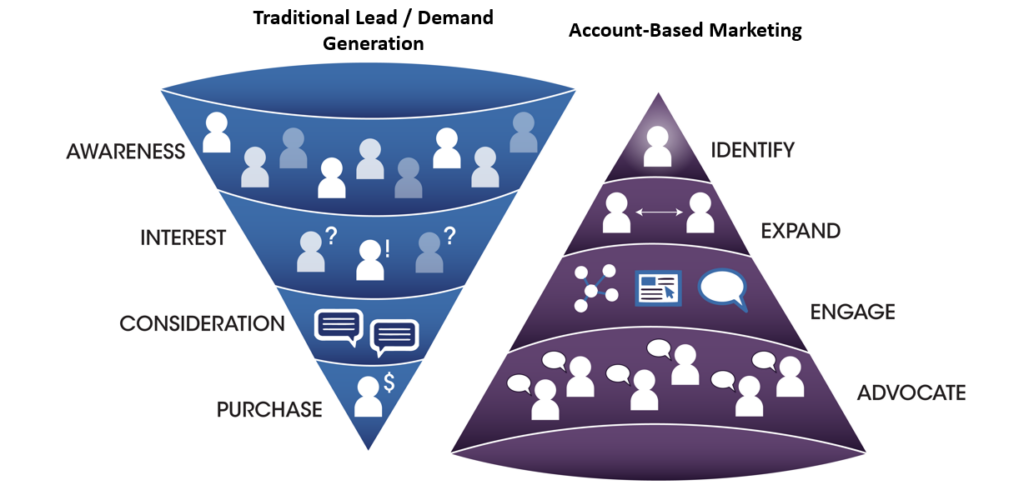 There are many excellent resources available on ABM; however, our intent here is to provide a condensed summary of ABM that includes some of Advertas best practices that have been refined through research and first-hand experience of our firm. One of the key takeaways is that ABM is not a 'silver bullet', and is insufficient – alone – to comprise a marketing plan that will move the needle. If ABM is measured through Marketing Qualified Leads (MQLs), brand awareness and thought leadership are essential to business growth. (Exhibiting thought leadership is crucial where the offering – product or service – is innovative or highly technical.) ABM is an excellent tool in the B2B marketing plan but is less effective when done in a vacuum where key individuals in target accounts are unaware of your brand. Brand awareness and thought leadership are important complements to ABM.
Who Should Consider Account-Based Marketing?
Most B2B firms are well-suited to apply ABM as at least part of their marketing plan because their universe of practical customers (clients) can be determined and listed. While the list of ideal customers may be long, it is possible to list them on a single spreadsheet. Then, using a combination of business intelligence tools plus social media sources like LinkedIn and Facebook, relevant individuals in each account are identified, and facts about those individuals are documented. Ideally, the information on key individuals is maintained in a Customer Relationship Management (CRM) or Marketing Automation system. However, Excel or Google Sheets will suffice to start the ABM planning process.
Appropriate market segmentation practices apply equally to ABM. For example, suppose your target market is the energy industry, where Advertas has deep experience over many years of marketing practice. In that case, the market segmentation may be by the size of the company, the location of their assets, whether they are onshore or offshore, or their financial structure, i.e., publicly traded, privately held, or nationally owned oil company (NOC). Whatever meaningful segmentation may apply to your target accounts, the list of companies by segment must be finite and knowable.
The Benefits of Account-Based Marketing
In addition to the marketing efficiencies described above, several benefits accrue from ABM, including:
Personalized marketing to key decision-makers and technical influencers

Sales and marketing alignment – working together to build the marketing funnel

Shorter sales cycle as the appropriate individuals are engaged early in the sales cycle

An ROI on that portion of marketing invested in ABM, as opposed to branding campaigns

Better use of marketing resources on the accounts and individuals who will make a difference
Given the above sources of value from ABM, why wouldn't every B2B company have an ABM strategy? In short, they can, but implementing ABM is non-trivial, requiring a range of marketing skills. This is because ABM lies at the intersection of traditional marketing tools and methods, market research, data management, and a modicum of marketing infrastructure, i.e., the marketing tech stack. The effective ABM team will integrate roles and assets across these domains, as depicted in Figure 2.
Different Types of Account-Based Marketing
Strategic ABM: One-to-One
This tactic (also abbreviated 1:1) is an extremely specific, effective method of engaging five to ten accounts (or less), whereby a campaign is created for a target of one. There may be several decision-makers and influencers in the account, but the campaign targets a specific, strategic account and their unique circumstances and buying values. This approach become practical when:
You have excellent data. To create a campaign for a target of one account, you will need detailed insights into the company, the individuals in target roles, and their needs. This is the height of personalization. You will need to know about their current business challenges, their areas of operation, and perhaps even a little something of the hobbies of their executives.
The account represents significant revenue. A campaign for one will require significant investments of time and money. It will require the contributions of a team of people over weeks or even months. This strategy can create a strong ROI when just two or three accounts can change the revenue trajectory of the business.
You have a creative, multi-channel approach to outreach. Given that each campaign has a target of one, you can least afford to put all your eggs in one basket. Email, social, events, digital ads, physical mail – there is no one silver bullet on which you can consistently rely to do the trick. A well-rounded campaign will generate the best results. This holds true in most campaigns, but particularly for 1:1, as each executive will respond to a different kind of an outreach, after varying numbers of touchpoints.
Scale ABM: One-to-Few
A one-to-few approach selects a small group of accounts and groups them by business imperative, buying values, culture, technology infrastructure, or another common quality, while still keeping in mind their challenges and goals. The degree of personalization is still very high, but it differs from a 1:1 approach in that the campaign is broader than a campaign of one. The accounts still have a customized plan, but it can allow for greater scalability. This approach works best when:
You have good data. The customization may be lower than in 1:1, but still requires insights into the business environment. You may not have detailed information on the innerworkings of the target account team, but you know generally the business challenges they face, the factors relevant to your offering, and the roles in the sales cycle.
There are common market factors that affect a group of accounts. Changes in legislation, economics, or the adoption of a new technology can significantly impact a group of accounts. When they can be grouped together meaningfully by a common business environment, it yields the best potential for scalability.
Revenue-by-account is high. The bar for revenue targets by account is lower than in 1:1, but still must be significant to drive ROI.
Programmatic ABM: One-to-Many
One-to-Many ABM can be viewed as more traditional segmentation in B2B marketing. Thousands of target accounts are grouped by more general categories such as industry, customer demographics, internet browsing history, or location. In programmatic ABM, marketing teams rely heavily on their CRM, marketing automation, and business intelligence tools to engage prospects and draw them through the marketing funnel. Customization may be fairly light, but messages can still be tailored to buying values by common factors. This strategy may be a best fit for your organization if:
You have data limited to digital information only. Your information set is largely comprised of contact information, publicly available demographics on account and individuals, intent data, or other third-party data.
Revenue-by-account is limited. In this situation, each account is important, but it will require many wins to move the revenue needle. Building customer loyalty and relationships can still be an objective, but the sales cycles are typically shorter and have more of a transactional flavor.
You have a robust marketing tech stack. The key to good Programmatic ABM is the ability to execute on customized messaging at scale. To do this without huge overhead requires a well-integrated infrastructure to guide prospects from phase to phase of the customer journey without relying significantly on manual processes, subject to gaps and errors.
How to Implement Account-Based Marketing
Evaluate – plan – execute. Just like any solid marketing strategy, the first step to implementing ABM is to evaluate the strength and assets of your marketing team and against business objectives. These factors will inform the type of ABM strategy you choose to adopt.
Build the dataset
At a baseline, you need to have a solid contact list, namely the target accounts and key individuals in those accounts who you want to reach with the value proposition of your offering. For ease-of-use, this data should be enriched and tagged as appropriate to the customer journey. From there, determine what additional information can be gleaned from the sales team, prior interactions, news, events, social media, or other sources. Where a client finds themselves with a limited dataset, Advertas helps them build it to the degree required by their ABM objectives.
Identify high-value target accounts
It may be that not every account will represent the same tier of revenue potential. In a hybrid ABM model, some accounts may be a good fit for a one-to-many approach, whereas other may have the criteria to adopt a one-to-one approach.
Segment the accounts
Whether doing this programmatically (one-to-many) or based on qualitative data (one-to-few or one-to-one), there should be clear delineations between accounts or groups of accounts that differentiate them in terms of buying values, business environment, or other significant factors to which you can personalize their messaging.
Develop marketing personas for each role targeted
Each role in the sales cycle may have different concerns, priorities, and views guiding their purchasing decisions. Identifying these personas enables you to create a message unique to their perspective.
Develop customized marketing campaigns by segment/persona
Here's where the real creative work begins. Messaging should crystallize your company's value proposition against buying values. If you aren't solving a problem or concern they have in a unique way, you'll find your marketing efforts fall flat. It's best to develop several messages that you can run either in sequence, or in an A/B style of testing.
Plan a multi-channel campaign strategy
Whether digital ads, social media outreach, email, personalized events, or a customized gifting campaign, ensure that your plan has something for everyone. The key to an ABM strategy is investing in channels where you can very specifically engage just your target accounts. Remember, ABM is hyper-focused marketing. Tradeshows and general-purpose ads may still have a place for traditional marketing, but they are not part of an ABM strategy. Don't be afraid to take risks. The most effective marketing campaigns are generally out-of-the-box solutions. Give your team the freedom to fail and amongst the creativity, you'll find winning ideas.
Execute patiently and consistently and optimize as you go
Rome wasn't built in a day. Neither is your very first launch likely to overwhelm your sales team with qualified leads. If it does – great! Build on the success and move forward. But don't get discouraged if your first attempts don't set records. Experiment with tweaks to the message, the follow-up, or the channels and let your KPIs guide you.
Measure your customized marketing campaign results
Setting KPIs and assigning attribution can be one of the most complicated parts of the process. Don't get hung up in absolutes or mired down in the details. Whether you use last-touch, linear, or some other method, develop a process that works and measure it consistently. Set benchmarks and continue to compare KPIs to guide the continued execution of campaigns.
We use multiple marketing tools in a customized marketing campaign according to the offering and client's budget. The practical – integrated – ABM campaign will rise above the noise through several communication methods in concert – marketing orchestration. Some of these methods are described below.
Account-Based Marketing in Action
Reaching your targets is made more challenging by all the marketing messages we get daily, so being focused and creative is essential in reaching out and touching specific individuals.
Customized, fit-for-purpose emails
Directed ads to target accounts and regions
Engaging (modest) gifts to specific influencers
Events that offer valuable information, a unique experience or both
Webinars that demonstrate thought leadership or application case studies
Where ad campaigns are used with ABM (often a good practice), continuously monitor the impressions, click-through rates (CTRs), and leads by ad, and adjust the ad messaging and spend allocation by channel accordingly. We usually recommend A-B ad testing unless a client has data indicating that a given message is proving to work.
Common Mistakes When Executing ABM
We see four common mistakes when companies undertake an ABM marketing initiative without good guidance, including:
Think of ABM as only for the marketing department
See it as a campaign
Believe that using an ABM tool is enough
Avoid running a pilot
ABM is an opportunity for marketing and sales to align objectives and work together on a set of target accounts from the initial planning phase. The "sales" role is all field sales, whether direct, representatives or even value-added outlets. All customer-facing roles should be brought into the target account identification process to the extent practical. Strategic Account Managers are critical to the planning and execution of ABM as existing large customers must be given appropriate attention to build a protective hedge from competitors.
ABM is much more than a single marketing campaign run by marketing: it is a strategy that needs the support and resources of management, sales, customer support, operations, and thought leaders from across the enterprise. ABM will generate Marketing Qualified Leads, but those leads must be vetted and curated into Sales Qualified Leads (SQLs) that fill the front end of the forecast pipeline. Once deals reach the stage of SQLs, most established organizations are good at nurturing deals. ABM can be the mechanism for a business to rise above all the noise in the marketplace and attract the right customers or clients.
Unfortunately, ABM alone is insufficient for success. As noted earlier, from a purely marketing perspective, brand awareness provides the strategic 'air cover' for ABM and sales. And while it may go without saying, having a clear value proposition for the offering that is consistently communicated to prospective and existing customers will enable product adoption to proceed with fewer required resources – less friction and resistance. The elevator pitch to the CEO of a target account that sets out the value proposition in a few minutes is still needed, despite it being in 20th-century sales training.
Advertas tests everything, including running pilot projects with clients adopting ABM for the first time. This is just best practice. Pilot projects will reveal information, such as gaps in the process and what is being done right. The pilot project should focus on some early 'wins' to give the ABM team confidence, but it also must be clinical, informing the team of needed adjustments. As a guide, if there are 500 target accounts worldwide, the pilot might include fifty (10%) accounts, representing a fair sample of all accounts. The pilot project is also the place to conduct A-B tests of ad messages. We do not shy away from assessing results weekly and changing the messages as needed to maximize the effectiveness of the outreach as determined by Click-Through Rates (CTRs), form fills, and MQLs.
Hal Green and Laura Cuttill, Advertas, Inc
Copyright 2022. All rights reserved.

Hal H. Green is a marketing executive and entrepreneur in the energy industry with more than 20 years of experience in starting and managing technology companies. His particular focus is business strategy, effective selling practices, and field marketing. He has a diverse portfolio of achievements, which span all areas of the hydrocarbon supply chain – from upstream exploration through downstream refining & petrochemical.
Mr. Green attended Texas A&M University, where he received a Bachelors in Electrical Engineering. He later earned an MBA in Information Management from the University of Houston. As Director of Manufacturing Systems for Setpoint, an advanced process control firm in Houston, Mr. Green effectively managed the P&L of this consulting practice. After Aspen Technology acquired Setpoint in January 1996, he continued as Director of Business Development for the Information Management and Polymer Business Units. Throughout his career, Mr. Green has been a proven thought leader, publishing articles in major industry journals.
In 2004, Mr. Green founded Advertas, a full-service marketing and public relations firm serving clients in energy and technology across the energy supply chain – upstream, midstream, downstream and power. In 2009, Geophysical Insights retained Advertas to be their outsourced marketing and business development functions. Dr. Tom Smith, President/CEO of Geophysical Insights, appointed Mr. Green as Director of Marketing and Business Development, in which capacity he still serves today.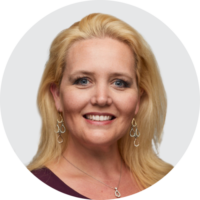 Laura Cuttill
Chief Marketing Officer
Laura A. Cuttill is a strategic and operational leader with a demonstrated ability to fuse business, financial, and technology interests into streamlined, profitable operations. Armed with a degree in marketing from Texas A&M University, Ms. Cuttill began her career in the Schlumberger Information Solutions department, working on identity management roll-out projects for Chevron and ExxonMobil.
In 2004 she joined Hal Green as a co-founder of Advertas, adding her organizational, analytical, and creative problem-solving skills to the team. In 2010 she left Advertas to co-found the identity management software company, 2FA, Inc. As COO / CMO for 2FA, she helped lead the company from concept to a 75% market share in target verticals for two factor authentication in four short years. After selling the business to Identity Automation in 2016, she returned to Advertas, continuing to support clients in the energy and process industries. She serves her clients with a unique vision of using cutting-edge software and marketing practices as a foundation to drive business growth.