We've all heard the phrase "work-life balance" about a thousand times in the last five years, especially with the rise of remote working. As a working society, we understand the value of keeping the two "worlds" separate, blocking out time in our days for each. But what if we were to challenge that narrative? What if these two worlds could coexist peacefully? Maybe it's less about balancing work and personal life and more about living in duality, integrating work and life.
Don't get the wrong idea – the overused and trite phrase of "work-life balance" is a good one, and when stripped down to its true meaning, is something all marketers should believe in. However, let's shift the perspective.
How We Got Here
Those fateful days in early 2020 saw workers forced out of their office lunches, midday walks to the break room for a refill of coffee, and 4 o'clock Happy Hours with coworkers after sealing that sought-after deal. But as we all know, remote working is far different from in-office working. The opportunity to integrate your work and life increases, and although it may have initially been feared, it turns out that mingling the two can lead to a more efficient, prosperous life.
Why lock yourself away in an office for 8 hours to then be hit with all of the needs of your personal life? The human brain was not wired to endure long hours of uninterrupted work, nevertheless staring at a screen. Rather, we are built for adequate amounts of sleep, brain breaks, exercise, and serotonin boosts! All of which are achievable through integrating work life and personal life.
Whether you work in an office or remotely, here are some great suggestions for not separating your work and home life, but integrating them in a healthy way to bring about better 'zen' and more productivity in your day:
Get Sufficient Sleep
You've heard it before, but do you actually DO it? The need for good sleep is well-documented. Have the discipline to shut things down and go to bed with sufficient time to get 8-9 hours of sleep and still get up to leisurely enjoy your morning coffee, time with loved ones, or perhaps to just prepare for your day.
Find Breaks in the Day for Exercise
Had a lot of meetings (online or in-person) this morning? Jump offline for a walk around the neighborhood. Listen to an audiobook or possibly enjoy the sounds of nature. Or even tackle that load of laundry that's sitting on your dining room table (or don't, we totally get it).
Hitting that 3:00 p.m. midday wall? Take a 15-minute' brain break' to play with your pet(s). Enjoy a healthy snack with them and give your mind a break.
Get Creative
In a creativity rut? Do something that puts a smile on your face! Bust out that hobby that you love, or turn on your favorite song for a mini-dance party. Get those creative juices flowing!
Block-off Time for Specific Tasks
Have personal life responsibilities such as picking the kids up from school? Block off 30 minutes of your day to take care of those! Gone are the days when your work can't be put on hold to see to personal responsibilities. Disclaimer: Always work with your employer to understand your work expectations and what is acceptable vs. unacceptable.
Prioritize Relationship-Building
Haven't had much time to spend with coworkers? Schedule a monthly Happy Hour for team building & catching up outside of work hours. Allow yourself to enjoy time with your coworkers outside of a work setting, alleviating stressors.
Conclusion
As we all know, a well-balanced marketer is typically a GOOD marketer. Get enough sleep, eat good foods, and create good habits. The integration of work and life can be healthy, effective, and rewarding!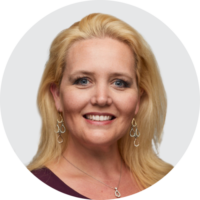 Laura Cuttill
Chief Marketing Officer
Laura A. Cuttill is a strategic and operational leader with a demonstrated ability to fuse business, financial, and technology interests into streamlined, profitable operations. Armed with a degree in marketing from Texas A&M University, Ms. Cuttill began her career in the Schlumberger Information Solutions department, working on identity management roll-out projects for Chevron and ExxonMobil.
In 2004 she joined Hal Green as a co-founder of Advertas, adding her organizational, analytical, and creative problem-solving skills to the team. In 2010 she left Advertas to co-found the identity management software company, 2FA, Inc. As COO / CMO for 2FA, she helped lead the company from concept to a 75% market share in target verticals for two factor authentication in four short years. After selling the business to Identity Automation in 2016, she returned to Advertas, continuing to support clients in the energy and process industries. She serves her clients with a unique vision of using cutting-edge software and marketing practices as a foundation to drive business growth.