"So often we think about how much money we are saving to do things ourselves. Instead of thinking of cost, we should be thinking about return. Go ahead and pay twice as much for someone who really has the expertise and get 5x times in return."
In a recent chat I had with Harry Rahman, CEO of Veloce Innovation. On our podcast The CMO's Guide to Everything, Harry shared some of the marketing challenges his company had in their early growth. His story is similar to ones we hear all the time. When budgets are limited, managers often make assumptions about marketing that are fundamentally wrong and that will have the opposite effect of attracting leads. Here are three myths that we hear most often, and our best practices in response: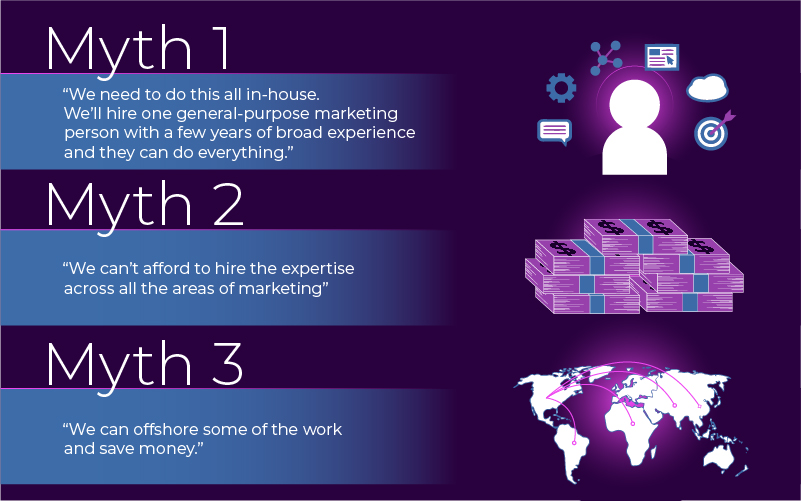 Myth 1: "We need to do this all in-house. We'll hire one general-purpose marketing person with a few years of broad experience and they can do everything."
The Truth: No one person, no matter how experienced or talented, has all the skills necessary to deliver on a complete marketing strategy. An effective marketing program requires many different skill sets, and one individual rarely offers them all. Even if they do, a single individual is bandwidth limited. Then, there is the blend of personality types that is important. Graphic designers tend to be very creative thinkers, while digital marketing specialists must be very analytical in their thinking in order to evaluate and optimize campaigns. Those early in their careers may claim that they have experience in a wide range of fields, but in reality, it's an illustration of knowledge a mile wide and an inch deep. They may be conversant in a wide range of topics, but really having the expertise to deliver the whole of a campaign and address a wide range of challenges requires a team.
The Recommendation: Trying to force-fit one resume to all the marketing activities is a recipe for tepid results, at best. If you are going to invest time and resources into marketing, give your investment the best opportunity for real ROI and hire specialized talent according to what's called for to achieve business objectives. Best practice: retain an agency to work with limited in-house staff to get the best results in the shortest period of time.
Myth 2: "We can't afford to hire the expertise across all the areas of marketing"
The Truth: In one respect, this may have some truth. An effective core marketing team will consist of a strategist/project manager, a good copywriter, a digital specialist, a web developer/technical type, and a stellar graphic designer. With the right combination of experience, that team could handle most marketing initiatives, include some public relations efforts and event management. Even in conservative estimates, that core team represents in excess of $350,000 a year in payroll and employee benefits.
The Recommendation: You don't have to bring all that talent on full-time in order to take advantage of their expertise. Using an agency is a great way to leverage all of those skills for a fraction of the price. A good agency will consult with you on your objectives, advise on the best way to achieve those, and give you realistic expectations on the work required. From there, the scope can be adjusted up or down to suit your budget. There are many times where an agency can put together top talent in the areas you need for the equivalent cost of hiring one full-time employee.
Myth 3: "We can offshore some of the work and save money."
The Truth: Technically, yes, it is possible to get work done at a very low cost from offshore vendors. However, the total project cost likely will end up just as expensive, if not more so, due to the amount of time that must be invested in managing their work. As a general rule, offshore vendors do precisely what they are instructed to do – no more, no less. You may get exactly what you have asked for, but miss out on the recommendations that come from a team member invested in your overall success. Often those that are successful in winning US-business based on their English fluency subcontract out the work to their in-country peers. When this type of relationship is combined with a significant time zone differential, even simple edits can be protracted over days or weeks.
The Recommendation: A good agency will advise you based on their expertise to give you the best version of your ideas and yield optimum results from your campaigns. Effective, long-term, close working relationships impact the ROI from your investment in marketing far more than strict cost-cutting measures.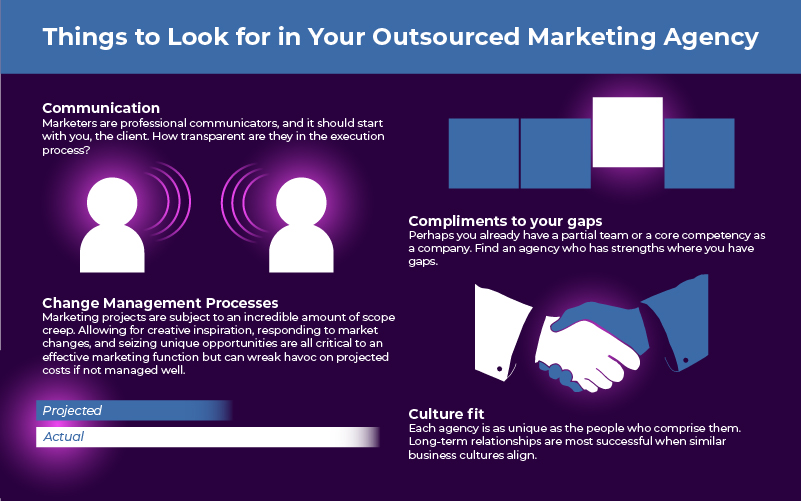 Beyond a good portfolio and solid references, there are other considerations that can help ensure that the relationship between you and your agency is a success.
Communication: Marketers are professional communicators, and it should start with you, the client. How transparent are they in the execution process? How timely do they respond to your requests? Are their billing practices clear and defined? Do you feel they understand you and your business needs well?
Change Management Processes: Marketing projects are subject to an incredible amount of scope creep. Allowing for creative inspiration, responding to market changes, and seizing unique opportunities are all critical to an effective marketing function but can wreak havoc on projected costs if not managed well. Does the agency track and keep you apprised of changes and their impact to budget as initiatives progress?
Compliments to your gaps: Perhaps you already have a partial team or a core competency as a company. Find an agency who has strengths where you have gaps. It's a natural human tendency to prioritize things that you do well in others, but if you already have that talent on the bench, no need for duplication.
Culture fit: Each agency is as unique as the people who comprise them. Long-term relationships are most successful when similar business cultures align. As a manager, you can help ease the friction and sense of competition that in-house personnel sometimes feel towards an external agency by clearly defining roles and underscoring the importance of areas of expertise as keys to success in the project. Do your team members who will be working with an agency understand and value their contribution? Does the agency value the input of those to whom they are not directly reporting?
At Advertas, the testament to our great working relationship with our clients is the length of time they stay with us. Our ongoing client engagements average over five years and we are delighted and blessed to work with some clients now over 10 years and counting. .
If you think these ideas have merit and would like to discuss how Advertas can support your marketing objectives, reach out here and let's schedule a time to chat!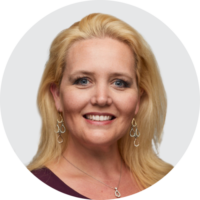 Laura Cuttill
Chief Marketing Officer
Laura A. Cuttill is a strategic and operational leader with a demonstrated ability to fuse business, financial, and technology interests into streamlined, profitable operations. Armed with a degree in marketing from Texas A&M University, Ms. Cuttill began her career in the Schlumberger Information Solutions department, working on identity management roll-out projects for Chevron and ExxonMobil.
In 2004 she joined Hal Green as a co-founder of Advertas, adding her organizational, analytical, and creative problem-solving skills to the team. In 2010 she left Advertas to co-found the identity management software company, 2FA, Inc. As COO / CMO for 2FA, she helped lead the company from concept to a 75% market share in target verticals for two factor authentication in four short years. After selling the business to Identity Automation in 2016, she returned to Advertas, continuing to support clients in the energy and process industries. She serves her clients with a unique vision of using cutting-edge software and marketing practices as a foundation to drive business growth.
Let's talk
We help clients bring their marketing ideas to life.
Tell us about yours and we'll get back to you as soon as we can.