6 Best B2B Marketing Strategies
By Laura Cuttill
We all have been in that room or sat in front of a screen and asked ourselves, "What can we do differently this year than we've done before when it comes to our B2B marketing strategies?" The digital marketing space is constantly advancing, so here are some current ideas for consideration:
For the purposes of this list, we're going to assume you've got the basic blocking-and-tackling of your marketing program working well. You have a great outreach list, the messaging is fine-tuned, your channels strategy is working, and you have consistent touchpoints with your market(s). With those boxes checked, there still could be some room for improvement. Here are a few ideas to complement your B2B marketing strategies and breathe new life into your program.
Re-visit your target personas.
If you haven't really done a serious exercise in defining the personas in your target market, this is absolutely step one. If it's been a while since the last time you visited it, perhaps it bears taking another look.

 The objective of creating personas is to be able to very specifically curate valuable content tailored to each role within your target accounts. Guess what – the market, companies, and people all evolve. Make sure you're meeting with your salespeople or reps on a routine basis to get feedback on current challenges, common objections, and frequently asked questions to make sure you stay in touch. Markets change. That feedback loop, from sales to marketing and back again, is invaluable in growing your marketing impact.

Run A/B testing on every point of digital customer interaction.
Had a great idea last year that seems to have declined in effectiveness? Has it been more than a year since you touched the website? People tend to underestimate the importance of changing things up. Our brains are designed to filter out things we've seen before, so it's natural that something that got great results – the location of a call-to-action or a particular subject line – decreases the longer you use it. As much as you may have optimized the design at one point, it has a shelf-life and will become stale and less effective with time. New ideas are born every day and can come from all team members. Solicit input and run tests. Don't be afraid to try the out-of-the-box solution. Great marketing is all about calculated risk-taking. With A/B testing, you can try almost anything to see the results in a limited capacity before giving it a full-on green light for implementation at scale.
Consider a gifting campaign.
Admittedly, these can get kind of dicey. Often employees at large companies are not permitted to accept gifts, so it's not a one-size-fits-all solution. However, with large deal sizes that make the research time worth it, and a little bit of creativity, you can create meaningful gifting campaigns for almost anyone. For instance, you might take the top 100 of your target accounts and the corresponding decision-makers relevant to your business and check out their recent social posts, 'About' sections of their websites – anything in the public domain. You will find that often they drop nuggets of their personal life in a professional capacity. Perhaps Mr. Smith at Acme Corp mentions that he loves fly-fishing. You may consider getting a specific lure made with your company's logo on that, pack it up in a lovely gift box, and drop it in the mail.
Evaluate your follow-up.
The best-laid marketing plans can often lag in the follow-up. You have a great outreach; you get a significant amount of engagement… then what? If you aren't seeing closed deals resulting from marketing outreach, it may be time to take a look at what happens afterward

. Is there a defined process with measured results? Does the customer have a single, clear point of contact? Is the follow-up timely and relevant? (

Pro tip: a week following may not be a sufficient follow-up window. Customers are accustomed to instant delivery. Try to aim for 24-48 hours from engagement to pull the lead through to the next steps.)  
Videos, videos, videos.
I cannot underscore enough the relevancy and traction of videos. Whether your target market is well-educated PhDs or staff technicians, remember that companies buy, but people make decisions. Given the prevalence of streaming, social media, and virtual everything, static images have all but died (excepting the art of the meme). Challenge your team to apply videos at every touchpoint in the customer journey. Video of all lengths has an appropriate channel. Social posts should be limited to 5 – 20 seconds. Remember, the goal is simply to stop the scroll. Consider running a short highlight reel (30-60 seconds) before starting an event (online or digital). Some software platforms allow you to loop a video for webinar attendees in the waiting room before the start (see: Crowdcast). 3-5 minute explainer videos might be well suited to customer onboarding or a how-to YouTube channel. And of course, don't forget the videos and transcripts of your online events to boost keyword-rich content for your SEO.
Emphasize continuing education for yourself and your team.
Sometimes, it's challenging to get the creative juices flowing when the marketing team gets into the daily grind of tackling the to-do list. Attending webinars, listening to podcasts, or even just picking up a marketing book can spawn new ideas or approaches. Try to make a habit of honing your marketing skills and keeping up with industry best practices at least once per quarter. If you need some new ideas for great books to read, check out Laura's Recommended Reading List. Or, better still, find your own and let me know! There's a plethora of great inspiration in every area of the business.
One of the great parts of marketing is that the possibilities are virtually limitless and enabled by digital marketing tools. Every day, teams are doing new things that weren't practical a few years ago. These are just some ideas to get you started. If you dive in and find you could use some support, reach out and let us know! We have 17 years of creative problem-solving to put you ahead of the competition.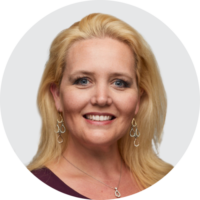 Laura Cuttill
Chief Marketing Officer
Laura A. Cuttill is a strategic and operational leader with a demonstrated ability to fuse business, financial, and technology interests into streamlined, profitable operations. Armed with a degree in marketing from Texas A&M University, Ms. Cuttill began her career in the Schlumberger Information Solutions department, working on identity management roll-out projects for Chevron and ExxonMobil.
In 2004 she joined Hal Green as a co-founder of Advertas, adding her organizational, analytical, and creative problem-solving skills to the team. In 2010 she left Advertas to co-found the identity management software company, 2FA, Inc. As COO / CMO for 2FA, she helped lead the company from concept to a 75% market share in target verticals for two factor authentication in four short years. After selling the business to Identity Automation in 2016, she returned to Advertas, continuing to support clients in the energy and process industries. She serves her clients with a unique vision of using cutting-edge software and marketing practices as a foundation to drive business growth.