Must-Reads for Marketing Veterans
The beauty of diving into a new book is the ripple effect on our imaginations. First, you're entertained, second, hopefully you learn something new, but third (and most important), it gets your brain out of the daily grind of task-oriented work and sparks creativity. In whatever you're reading, I'd recommend pausing every so often to digest and let your mind wander to how it might be applicable to our clients and our effects and take notes on ideas that surface.
1. The Book on Account-Based Marketing: Practical Tips for Exponential Revenue Growth
By: Bassem Hamdy
OR 1b. A Practitioner's Guide to Account-Based Marketing: Accelerating Growth in Strategic Accounts
By: Bev Burgess and David Munn
Laura's Review: So, I read the book by Hamdy and then recommended it to Hal Green (Director of Advertas), but something was lost in translation and he ended up reading the one by Burgess and Munn. Hal reported the latter to be eye-opening when it comes to the implementation of account-based marketing strategies, while I thought the former is an excellent foray into the distinction between standard B2B sales that has been done for years vs. the very tactical ABM approach. Either one could serve as a manual for our daily initiatives at Advertas. If you're new to account-based marketing, either of these provide a solid footing on which to begin building campaigns.
2. Hook Point: How to Stand Out in a 3-Second World
By: Brendon J. Kane
Laura's Review: While most of the examples in this book are B2C, as B2B marketers, we still are targeting people, and the engagement behavior of people doesn't largely change between their personal and professional interactions. Kane calls out the most important themes in providing value up front, how to present ideas that get attention but aren't 'clickbait', and presents the processes necessary to stop the scroll. It has a decidedly social media bent, (along with no small amount of self-promotion) but the theories hold for any type of content.
3. Alchemy: The Dark and Curious Science of Creating Magic in Brands, Business, and Life
By: Rory Sutherland
Laura's Review: Probably one of my favorite books on the list – hilariously funny while it scientifically analyzes the human psyche. This is the sort of book that sparks creativity and imagination. You'll get the most out of it if you keep a notebook nearby and jot ideas that come to you that apply directly to our business while reading. I don't think I could do a better write-up than the description of the book taken from the publisher… "Based on thirty years of field work inside the largest experiment in human behavior ever conceived—the forever-unfolding pageant of consumer capitalism—Alchemy, the revolutionary book by Ogilvy advertising legend Rory Sutherland, whose TED talks have been viewed nearly seven million times, decodes human behavior, blending leading-edge scientific research, absurdly entertaining storytelling, deep psychological insight, and practical case studies from his storied career working on campaigns for AmEx, Microsoft, and others."
4. Brand Bewitchery: How to Wield the Story Cycle System to Craft Spellbinding Stories for Your Brand
By: Park Louis Howell
Laura's Review: Brand Bewitchery focuses on the idea that marketers are, first and foremost, storytellers. It is a 30,000-foot-view of creating a brand and how to tell the story with the content you produce. While we don't typically have clients who need a complete brand creation, this book is great for looking at long-form content, particularly as it applies to articles we pitch to publications as well as extended, non-technical blog posts. As with most other books on the list, it is dominated by B2C stories, but the same principles hold for B2B. If you can tell an effective story, you can hold your audience's attention and stand out in the marketplace, whatever the product.
5. AI Superpowers
By: Kai-Fu Lee
Laura's Review: While not a marketing book, this is a fascinating look at the cultural differences between China and the U.S., and how it affects the go-to-market strategy of products when selling into both countries. It is written by a Taiwanese, Carnegie-Mellon-educated former senior executive at Apple, Microsoft, and Google, contributing a business-wide perspective spanning technology, marketing, and economics. It centers around the development of technology, particularly artificial intelligence, and how it will impact both worlds. Daily applicability for a marketing job may be low, but it gets an A+ for broadening your horizon into how the rest of the world thinks and works when it comes to taking new products to market. Some of the reviews on Amazon felt he was long-winded, but I didn't think so – it kept me hooked cover-to-cover.
Stay tuned as this list will be updated from time-to-time. I will update the list as I find books that entertain, educate, and spark a creative streak in me!
Copyright 2023. All rights reserved.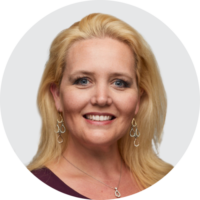 Laura Cuttill
Chief Marketing Officer
Laura A. Cuttill is a strategic and operational leader with a demonstrated ability to fuse business, financial, and technology interests into streamlined, profitable operations. Armed with a degree in marketing from Texas A&M University, Ms. Cuttill began her career in the Schlumberger Information Solutions department, working on identity management roll-out projects for Chevron and ExxonMobil.
In 2004 she joined Hal Green as a co-founder of Advertas, adding her organizational, analytical, and creative problem-solving skills to the team. In 2010 she left Advertas to co-found the identity management software company, 2FA, Inc. As COO / CMO for 2FA, she helped lead the company from concept to a 75% market share in target verticals for two factor authentication in four short years. After selling the business to Identity Automation in 2016, she returned to Advertas, continuing to support clients in the energy and process industries. She serves her clients with a unique vision of using cutting-edge software and marketing practices as a foundation to drive business growth.